Blog Hop Stop #2 – Maddie from Bad Ass Quilter's Society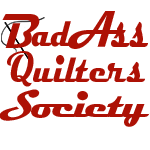 Maddie of the highly popular
Bad Ass Quilter's Society
is the second stop on the Heirloom Sewing Blog Hop!
When the Bad Ass Quilter's Society popped up, I thought "I have found my people!".  I'm not your average quilter, and these were the folks just like me.  Here's the motto of BAQS: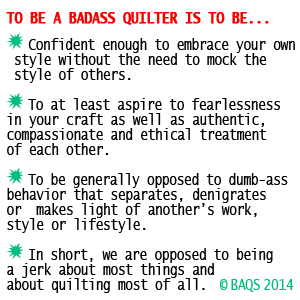 Better than that though, is the force behind the BAQS, Maddie Kertay.  Maddie is a helluva woman. 
Owner of a quilt shop in Tennessee, called Spool,
she's a loving wife and mom, with a huge heart and a fierce determination to care about our industry.  She wants artists to be paid their worth, to see that they are valuable members of of the industry no matter what you bring to the table, and wants acceptance for every kind of quilter to boot. We need more people like her.  We need to build each other up and not tear each other down.  I adore Maddie, and I think you will too!
Check out her post here:
http://www.badassquilterssociety.com/heirloom-sewing-as-part-of-badass-quilting/
Be sure to check out the rest of the hop too!
June 9 – Susan Brubaker Knapp –
http://wwwbluemoonriver.blogspot.com/
June 10 – Maddie Kertay –
http://www.badassquilterssociety.com/
June 11 – Faith Jones –
http://www.freshlemonsquilts.com/
June 12 – Lynn Krawczyk –
http://smudgedtextilesstudio.com/blog/
June 13 – Julie Creus –
http://www.latodera.com/blog
June 16 – Catherine Redford –
http://catherineredford.com/
June 17 – Megan Dougherty –
http://thebitchystitcher.com/
June 18 – Pokey Bolton –
http://pokeysponderings.com/
June 19 – Jamie Fingal –
http://www.jamiefingaldesigns.com/
June 20 – Cheryl Sleboda –
https://muppin.com/blog/