Blog Hop Stop #6 – Catherine Redford
Catherine and I are good friends.  We are in the same quilt guild.  We started a Modern Quilt Guild chapter together.  And we travel together… A lot.  You know you are good friends with someone when you can travel with them!
More recently, Catherine and I have been heading to the same places, like Quilting Arts TV, and Houston, and stuff like that.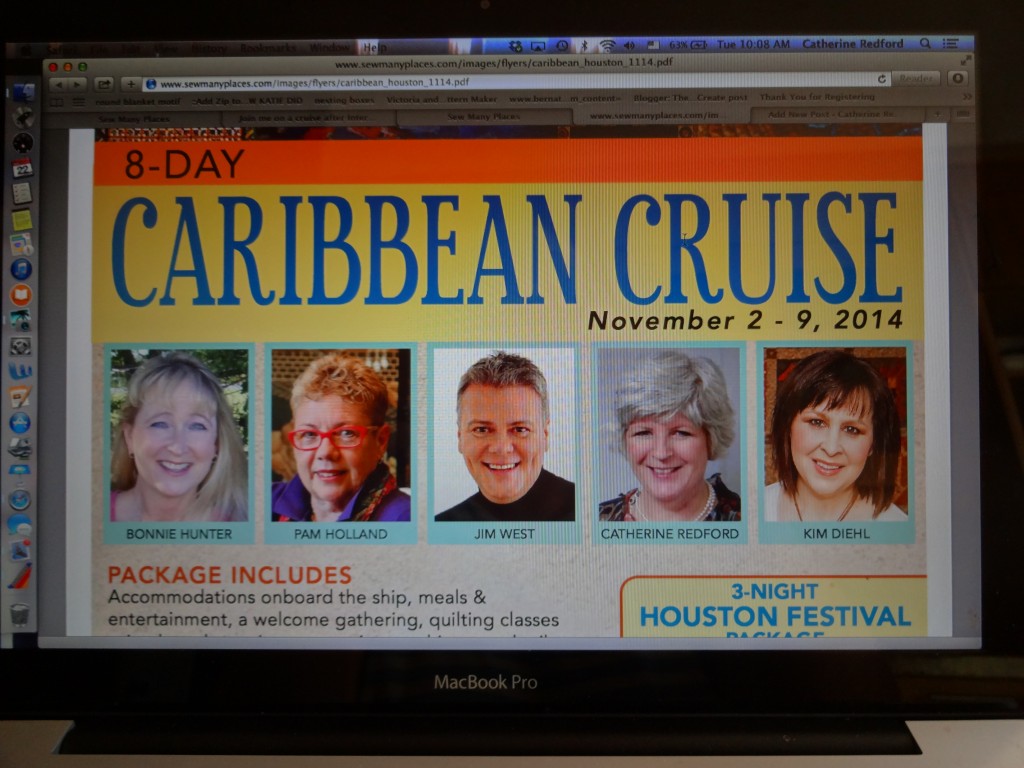 Catherine is doing lots of teaching and travelling this year, like this cruise she's teaching on!  How exciting is that?
Head on over to Catherine's blog to see what she has to say about our trip to tape the DVD.
Be sure to check out the rest of the hop too!
June 9 – Susan Brubaker Knapp – http://wwwbluemoonriver.blogspot.com/
June 10 – Maddie Kertay – http://www.badassquilterssociety.com/
June 11 – Faith Jones – http://www.freshlemonsquilts.com/
June 12 – Lynn Krawczyk – http://smudgedtextilesstudio.com/blog/
June 13 – Julie Creus – http://www.latodera.com/blog
June 16 – Catherine Redford – http://catherineredford.com/
June 17 – Megan Dougherty – http://thebitchystitcher.com/
June 18 – Pokey Bolton – http://pokeysponderings.com/
June 19 – Jamie Fingal – http://www.jamiefingaldesigns.com/
June 20 – Cheryl Sleboda – https://muppin.com/blog/